OPTION 1 :
Google Chrome receives an update on a regular basis but when it updates it doesn't remove the Old_Chrome.exe files therefore these files build up over time and each old version can take upto 80MB to 100MB of space which is quite a lot of space when you think about it and can be utilized in other ways. Removing these outdated chrome files is safe and easy to do, in fact there are a couple of way to do it.
1st option is to remove the Old_Chrome.exe files manually.
So, firstly you need to show all hidden files and folders and to do this go to Windows Explorer > Tools > Folder Options > View Tab and then locate 'Show hidden files, folders and drives' and select it then Hit Apply.
Then in the Address Bar at the top of the Explorer Window type in the following and then Hit Enter;
For Windows XP
: C:\Documents and Settings\username here\Local Settings\Application Data\Google\Chrome\Application
For Windows Vista/Windows 7
: C:\Users\username here\AppData\Local\Google\Chrome\Application
Now unfortunately I have already removed the Old.Chrome.exe file so you won't see it in my image above, but all you look for is just that 'Old_Chrome.exe' then simply delete it.
Quote :

Do not Delete anything other than Old_Chrome.exe
And That's it!
__________________________________________________________________________________________________________________________________
NOTE: this option is for those who wouldn't prefer Option 1

OPTION 2:
Remove the Old_Chrome.exe files with the aid of an application called
OldChromeRemover
When you run OldChromeRemover Run as Administrator, you do not need to install this small application as it is portable based.
You will see as I mentioned before I had already removed my Old_Chrome.exe files so it won't show up here either.
But if you have Old_Chrome.exe files it will show you the full path and of how many outdated files that you have.
You then type in Y and Hit Enter to Remove them completely and safely.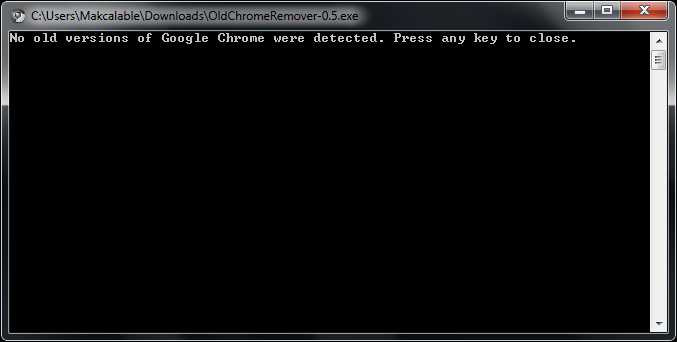 That's it!
100% tested in both methods.
OldChromeRemover