Phishing is technique through which we can hack account of any website. It is just a copy of the website and you send it to your victim and when he/she login his/her password will be stored in your password website file. For Example you want to hack someone's facebook account then you first of all you need a Facebook phishing page (this is just like facebook login page) and upload it to your website and send it to victim when he/she login with his/her account then his/her password and email address will be sent to your email or save to your website password file.
Tab Napping
: Tab Napping is new hacking trick through which you can't directly hack account and you will be using phishing method with tab napping then you can hack account. Actually Tab Napping is a script which you put into a site/blog and when the user visit your website/blog and read your article or play game or watch video, when user go to other tab in browser which contain other website like YouTube, Google etc and came back to your website then your website will be redirected to the phishing page and telling them to login with Facebook/Gmail/yahoo account to continue.When user enter login information he/she will be back to your page and user password will be send to you.
So Whats the Difference ?
Theres' a question in Your Mind Right Now what is the main difference between a
PHISHING ATTACK
and
TAB-NAPPING
. In Phishing you had to send the Direct Fake FACEBOOK Login page but in Tab Napping you do not need to send the fake login page. You give your victim the link to the Page Which contains a game/flash/video/anything interesting. If the User leaves that certain TAB unused for a while the page automatically redirects to the FAKE LOGIN PAGE.
So Lets Start With the Tutorial:
Things You NEED
1. Create a Free Account in any FREE Web-Hosting Site
2. The Scripts to Make the tab-Napping Successful (Will be provided At the End)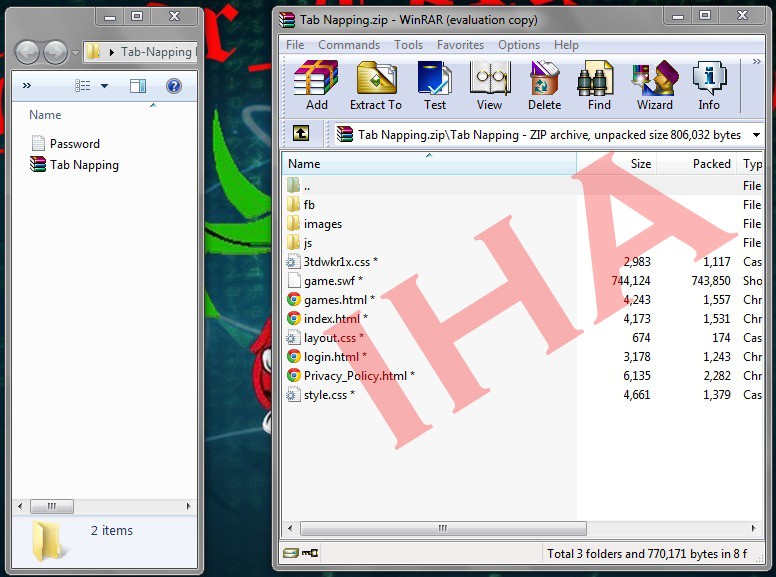 3. Now Browse to the File Manager Of Your account (web-hosting) and upload the Files (Files Will be provided)
4. After the Upload Is Complete Go to your Website. You Should Get a Page like The one In the Picture Below
5. Now the Most Tricky Part is sending it to the Victim. Be Sure to Decode the URL before Sending it to the victim
You Can Any Of the below:
Free online urldecoder and urlencoder
URL decoder and Encoder
List Of Other Websites
I Have Set Up a demo page :
Demo Page
FILES DOWNLOAD
PASSWORD ( needed while extracting the ZIP File) : IHA
Here's a Video Tutorial If You need It

___________________________________________________
Do NOT PM me until you are DONATING or Your Upgrade  hasn't been completed even after you have purchased it .
If is one of the above, you can either choose to PM or mail me ..