In Windows, what is Safe Mode used for and why?
While Windows is a versatile and powerful operating system, there are times that it can be frustrating. This frustration is particularly evident when you install a new software application or add drivers for some new hardware. Suddenly, the computer crashes or locks up. You reboot the computer and it loads a strange looking Windows desktop with the words Safe Mode in the four corners.
A Quick Guide How To Access Safe Mode In Windows Se7en
Starting your computer in Safe Mode can help you Identify & solve many issues whitin your windows operating system, especially when your having issues with Driver's,Programs/Softwares or even when you suspect being infected with Malware or Viruses.
To start your computer in Safe Mode, either boot up your computer or restart if you are already logged on.
Ok. here you need to be reletively quick.......... Just before the Windows splash screen appears you will need to press the F8 key to Enter Advanced Boot Options, but when pressing the F8 key you will most probably need to press it several times quickly so you don't miss the point of no return, otherwise you will have to start over.
You will see a new screen called "Advanced Boot Options"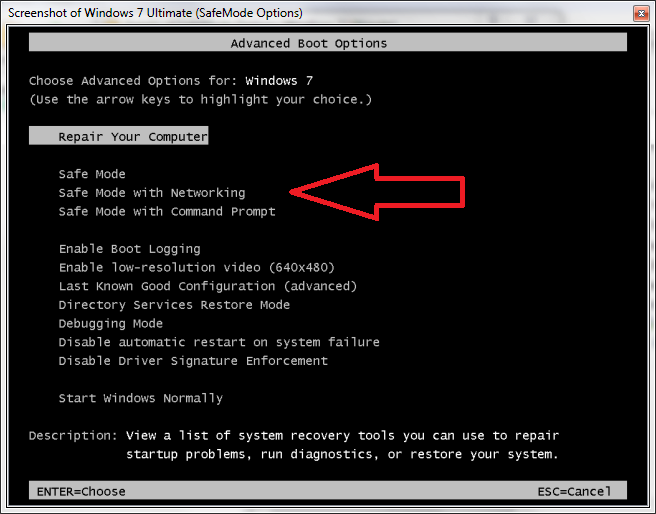 Your options are as follows for Safe Mode;
Safe Mode > This mode will load only the absolute minimum processes necessary to start Windows
Safe Mode with Networking > This option loads the same processes as Safe Mode but includes networking functions in Windows too.
Choose this option if you think you may need to access the Internet while troubleshooting in Safe Mode.
Safe Mode with Command Prompt > This will also allow a minimum set of processes but will allow access to the Command Prompt. This option is for more advanced troubleshooting if & when necessary.
Ok now using the arrow keys on your keyboard, scroll down and highlight your choice for starting windows, ie. Safe Mode, Safe Mode with Networking, or Safe Mode with Command Prompt option and press Enter.
Now you will see the necessary windows files loading. Once the all files are loaded you will still need to login to windows as normal.